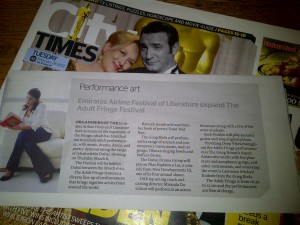 We were featured in the City Times on Tuesday February 28th 2012, right along all the other famous people
like Meryl Streep and Jean Dujardin.
We had a wonderful performance. Everyone from Miranda Davidson and her group to Dubai Drama Group and the wonderful Sach Holden and Aspen Aman accompanying on Gong. The music, the performances, the art, the vibrations and the words all came together to make a magical evening. Needless to say the audience made all the difference in the world.
Looking forward to the next FRINGE 2013.
Thank you Lara Matossian-Roberts for inviting me to be a part of this event.