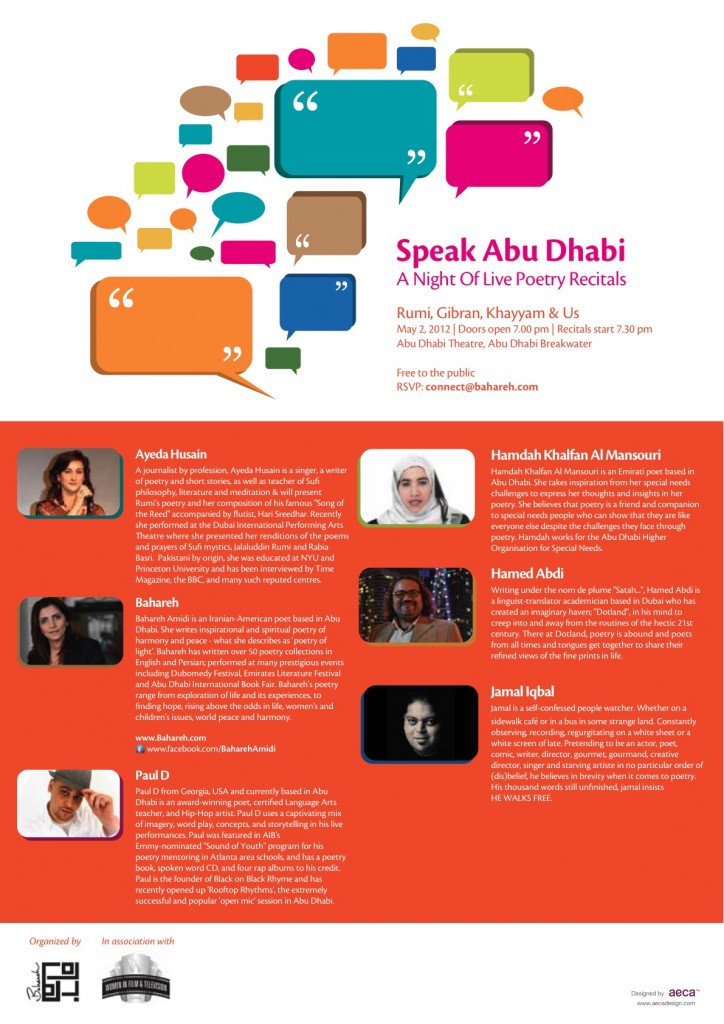 Dear Travel companions,
I am writing to invite you to an event of a life time.
I say that in the sense that it has all come together for me as a poet, as a therapist and as a human being.
To share the stage with the Grand Masters as well as other poets alive in our time. To share the stage with students from Universities and Schools and also Construction Workers with whom I have shared parts of this journey, as well as ladies words that have come from the Safe Houses.
In a sense the night brings it all together under a WEB connected by light,
music and words.
Hearts will take flight and also rejoice.
Join us please…. find details of the event below.
And I will update you with videos and pictures after the event.
Truly, and humbly yours.
Bahareh 'speck of dust in the hour glass of the universe'
It's a free event and everyone's invited.
Timeless wisdom enshrined in enchanting lyrics will flow freely at Abu Dhabi Theatre on 2 May 2012 in 'Speak Abu Dhabi' – a first-of-its-kind ensemble of UAE-based poets reciting their poetry along with verses from the classic masters like Rumi, Omar Khayyam and Khalil Gibran.
The free-to-attend event at the Abu Dhabi breakwater is being organised by the city's own spiritual poet Bahareh Amidi whose multicultural poetry recitals featuring collaborations with artistes and musicians have been captivating art and culture lovers across the Emirates.
Poets from around the world, who call the UAE their home, will illuminate the theatre with their deep insights expressed in poetry about light, peace, nature, humanity. Poems will also be shared by members of the audience, from American Community School and New York University students.
Bahareh Amidi, the Iranian-American poetess of light, will share verses from Khalil Gibran as well as her own spiritual poetry.
Hamdah Khalfan Al Mansouri, an Emirati poet will share her triumphs as a physically challenged but eternally optimistic person through her poetry.
Ayeda Husain, a Pakistani singer, writer, and teacher of Sufi philosophy, literature and meditation will present Rumi's poetry and her composition of his famous "Song of the Reed" accompanied by flutist, Hari Sreedhar.
Dorian "Paul D" Rogers, an award-winning 'spoken word' poet, certified Language Arts teacher, and Hip-Hop artist from Georgia, USA, will use a mixture of storytelling, rhyme, and imagery to share his poetry that is conscious and introspective in nature.
Hamed Abdi, a Persian linguist-translator-academician will recite verses from Omar Khayyam that touch upon themes like the significance of the moment, determinism vs. free will, creation vs. destruction, and the power of self in a simple yet mystical fashion.
Jamal Iqbal, an Indian actor, poet, comic, writer, director, gourmet, gourmand, creative director, singer and "starving artiste" will share his powerfully moving verses brought forth by "constantly observing, recording, regurgitating on a white sheet".
'Speak Abu Dhabi' celebrates the world tradition of lyrical expression in a land that values poetry as a part of its heritage. The writers and the audience will be from all walks of life, from many faiths and countries, exploring the deep human emotions that are common to all.
Brought to you with the support of Women in Film and TV UAE.
Bus will leave Ibn Battuta Metro Station to Abu Dhabi at Five PM promptly.
To reserve a space on the bus please email connect@bahareh.com
Thank you